Experience A Hassle-Free Upholstery Cleaning Melbourne Service At Your Doorstep
In the wake of an increase in allergies, asthma, and other illnesses, upholstery cleaning has become more important than ever. Dust-free and pollen-free upholstery can reduce allergy symptoms. Professional upholstery cleaning in Melbourne is a solution to many problems.
Here at Rejuvenate Upholstery Cleaning, our teams offer a timely Upholstery Cleaning Melbourne service to suit a wide range of furniture shapes and sizes. You can trust Rejuvenate Upholstery Cleaning to remove stains and spots with industry-grade compounds and solutions.
Among the many fabrics, we can work with are linen, cotton, polypropylene, polyethylene, wool, silk, olefin, microfiber, and many others. Our Upholstery Stain Removal Service cleaners can clean your furniture using a range of different methods including couch steam cleaning, hot water extraction, dry cleaning, shampooing, and more.
Call Us Now For Price Estimates
Why People Book Our Specialised Upholstery Cleaning Company
Whether you have furniture at home, in the office, or in the workspace, we can clean it. Getting there whenever it is convenient for you is what we need so we won't cause you any inconvenience. If you require an assessment of your furniture and Leather Upholstery Cleaning, contact us for Upholstery Cleaning services.
Licensed
We are a professional and licensed upholstery cleaning company that offers the best in upholstery cleaning services.
Experience
We have been providing top-notch upholstery cleaning services for over 25 years.

Affordability
Our clients love us because we provide excellent customer service and here upholstery cleaning prices are affordable.
Best techniques
At Rejuvenate Upholstery Cleaning, we take pride in getting the best results from application, agitation, vacuuming, and drying in the cleaning process or Upholstery Odour Removal.
Trained staff
Our technicians are trained to remove all stains, odours, and allergens from your upholstered furniture so you can enjoy it again.
Several upholstery cleaning options
We offer a wide range of services including: sofa bedding, chair covers, cushion covers, mattress covers, car seat covers, pet beds and more.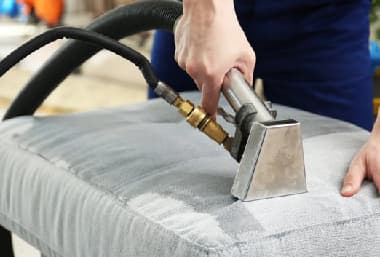 Why Is Upholstery Cleaning Important?
Upholstery can be made of different fabrics and materials. It is important to know which type of upholstery you have in order to find the right upholstery cleaner or perfect upholstery cleaning service for your needs.
There are many reasons why residential upholstery cleaning is important, but the most important reason is that it can prevent allergies, smells and permanent stains. It also prevents dust mites and other allergens from gathering in your home and causing problems for people with asthma or allergies.
Moreover, it adds durability in your upholstery and creates comfort for you and your family. Cleaning helps in maintaining a hygienic upholstery at home.
Here's How Rejuvenate Upholstery Cleaning Can Help
Booking
Specify the date and time you would like the Professional Upholstery Cleaners to arrive for your service. Pick a time and date for your service and we'll take care of the rest!
Inspection
We meticulously inspect and identify premature damage or problems that can impede our cleaning process. We assess colour bleed issues and perform a colourfastness test.
Choosing Appropriate Method
Depending on the fibre content of your fabric – synthetic, natural, blends, cotton, or others – determine the appropriate cleaning method and spotting agent.
Upholstery Cleaning
At Rejuvenate Upholstery Cleaning, we take pride in getting the best results from application, agitation, vacuuming, and drying in the cleaning process or Upholstery Odour Removal.
Post Cleaning
Clean post-cleaning with spotting agents for optimal results, and apply a protector to protect your upholstery against spills and stains.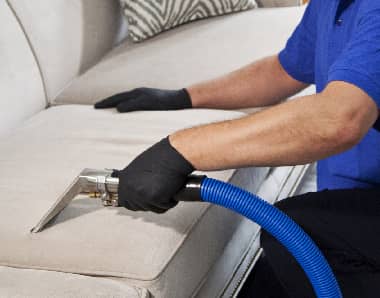 Same-day And Emergency Couch Cleaning Service
Same-day Upholstery Cleaning service that is becoming more popular provided by our company. Our customers in Melbourne can get any time services even on emergency cases. It has been designed to be used in emergency cases, such as when you have guests coming over and your upholstery needs a quick clean or if you have kids who love to spill things on the furniture.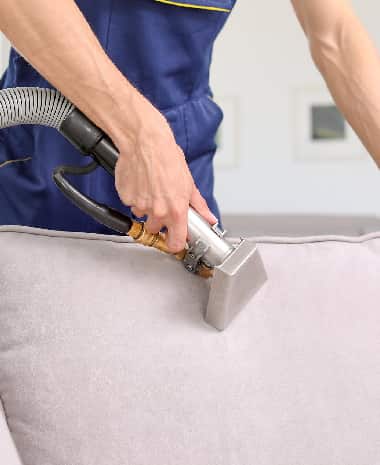 Types of Upholstery Stains That We Treat
We do not use bleach in the cleaning process. Our Upholstery Cleaning service experts use a special solution to remove stains and we are more than happy to take you through the process and answer any questions you may have. We offer a full home upholstery cleaning service and can come round to your home or office to clean your upholstery. Here are some stains that we clean.
Blood Stains: Our goal is always complete satisfaction while removing the blood stains from upholstery. We want to make sure that our customers are happy with their experience and come back again when they need us.
Coffee Stain: When you call us for Upholstery Coffee Stain Treatment, we'll come out and assess the situation, then give you an estimate for how much time we think it will take to get rid of the stain. Then, we clean the stain accordingly.
Oil stains: If there's anything else we can do to help for removing oil stains, like using a special cleaner or using a different procedure, we'll let you know what would work best.
Mould Stain: For removing mould stains on the upholstery, we use special equipment that gets into the tiniest cracks and crevices. So, no matter how deep the stain is, we'll be able to remove it completely.
Juice Stain: Our upholstery cleaning is great. First, we remove all the dirt that's there. And, then we follow up with a mixture of baking soda and water (1/4 cup per cup of water) to help scrub out the rest of the stains. We also use special remedies for stubborn stains.
Food stain: We use a best stain remover or detergent that is meant for upholstery. Our products are usually made from enzymes and other powerful cleaning agents, so they work like magic on food or other upholstery stains.
Slime stain, wine stain, ink stain, juice stain… whatever kind of stain it is, we'll clean it for you. We know that nothing is more frustrating than having to deal with a stain on your upholstery that takes forever to get out.
Safe and Effective: Our Upholstery Cleaning Products Promise the Best Results
At Rejuvenate Upholstery Cleaning, our top priority is ensuring your upholstery is clean and safe for your family and pets. That's why we use specially formulated, non-toxic cleaning solutions that are gentle on your furniture but tough on stains and odours. Our team utilizes a variety of eco-friendly cleaning agents, including enzyme-based cleaners, plant-based detergents, and steam cleaning technology to give you the best possible results without any harmful chemicals. Our cleaners using best upholstery cleaning chemicals.
Our Company Has Specialists For Cleaning All Leather or Fabric Upholstery Items
Upholstery materials like polyester, olefin, rayon, wool, cotton, silk, acrylic, linen, velvet, jute, and chenille are among the materials we clean. Our professional have Certificate III in Cleaning Operations. We are also available for all services.
Cushions and Sofa Frame Cleaning
Fabric Scotchgard protection
Sofa Cleaning Melbourne
Sofa Steam Cleaning
Recliner Cleaning
Lounge Cleaning
Sofa Dry Cleaning
Leather or fabric couch cleaning
Stubborn stain Treatment
Anti-allergen Upholstery furniture treatment
Dust & dirt removal
Sofa Stain Removal
Upholstery Steam Cleaning
Couch Dry Cleaning
Upholstery Sanitisation
Upholstery Mould Treatment
Upholstery Cleaning Services, Affordable Pricing
The prices for Upholstery Cleaning services in Melbourne depend on the size of the upholstery, the type of fabric that is used, and the level of dirt.
The prices for residential upholstery cleaning in Melbourne vary depending on a number of factors. The first is the size of the upholstery.
The bigger it is, the more it will cost to clean. The second factor is what material it's made out of. Different materials require different cleaning methods, which in turn have different pricing structures associated with them.
Finally, how dirty your furniture is will affect how much you have to pay for it to be cleaned. You can call us for upholstery cleaning service and get your free quote now!
We Specialize In Cleaning Various Types Of Upholstery Fabrics
White Cotton and Linen Fabrics
Experience the finest white cotton and linen upholstery cleaning, where we safeguard against discoloration and damage. Our meticulous process preserves your fabric's pristine look, without harsh chemicals or abrasive tools.
Patterned Cotton and Linen Fabrics
For patterned cotton and linen upholstery, trust our gentle, effective cleaning with mild detergent and water. We're the experts in Melbourne for cleaning these type of fabrics.
Synthetic Fabrics
Synthetic fabric sofas are a breeze for us to clean. We provide reliable Scotchgard protection to repel future stains and spills. Contact us today for professional upholstery cleaning in Melbourne.
Why Do People Hire Expert Upholstery Cleaners?
Cleaning upholstery is a job that many people don't want to do. That's why they often hire professionals to do the work for them. However, not all people can afford professional cleaners and so they resort to DIY methods. One such method is using a vacuum cleaner with an attachment that works as a brush. This method can be time consuming and tedious, also it is less effective in removing dust, dirt and other small particles from the upholstery fabric. Hiring expert upholstery cleaners is fast way to get cleaned your upholstery without any mess.
We Serve Melbourne And All Its Suburbs
Providing top-of-the-line, affordable upholstery cleaning services to Melbourne and the surrounding areas for years. We offer all services for upholstery cleaning needs. You can trust our vetted and trained professionals to handle cleaning of cotton, leather, velvet, velour, Berber, brocades, polyester, and combinations without damaging your delicate upholstery. Are you in need of a fabric upholstery cleaning guide? Look no further! We've got you covered with expert tips and tricks for keeping your furniture looking its best.
Testimonials
"My couches used to remain so bad that I would always feel that I will get sick. But when I called your team, the couch got cleaned so well. I am really happy that things turned out to be perfect in every way. I like the way you serviced the couch.
"My name is Lockie and I was really feeling bad because there were many issues that I could face because of the dirty sofa. But now I am happy because I have the best cleaning company to help me. I am glad that I made a right choice and this could help me in every way.
"My name is Sara and was having dust mites allergy and I could find no cause. The problem began with the dirty couch. But after your team came to my place for steam cleaning, I could get the best solutions. This is the best experience that I have ever had.
Reviews
Awesome service
I hired a couch cleaning technician and had a great experience. I am thrilled with the service and they removed all the dirt and germs. They used the best products to make the couches to deep cleaned, softer and spotless.
Cost-effective service
Your Service was really Good, I am really satisfied with the money that I paid for the cleaning service as the couch is looking like new with a fresh odour. Highly recommended.
Best vacuum sofa cleaning
Best experience with your vacuum sofa cleaning. Also, loved the technician who came today for service. He was very polite and gave a few tips to maintain the couch and sofa at home. Thank you for your kind service.
FAQs
Whether it's a stain from a spilled drink or a stubborn urine stain, we can help you out. We clean pet stains from the upholstery in particular. So, contact us now!
Grease stains are so difficult to get rid of but we can help you. Use simply hot water and vinegar based solution to clean it out from the upholstery. You can call us for professional services, if DIYs do not work for you.
Yes, we are 24/7 hours available including in working days, public holidays or weekends.
The cost of couch cleaning is affected by factors such as the number of seats, size, and other criteria. Please get in touch with us, and our experts will be happy to provide you with an affordable price quote.
The duration required to clean a couch depends on its size and level of dirtiness. Typically, a standard cleaning procedure takes approximately 1 to 2 hours to complete.